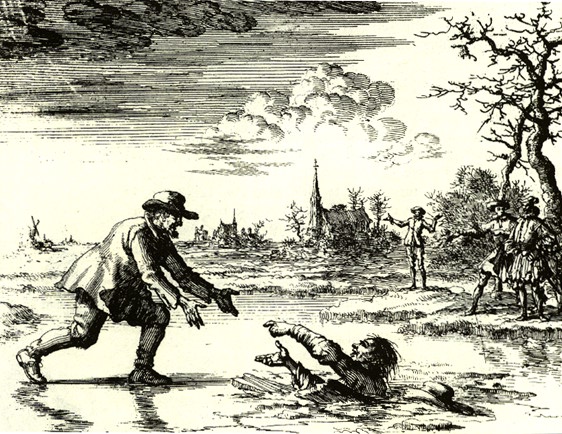 DayBreaks for 1/19/18: The Testimony of Dirk Willems
From They Were Strangers blog, by my friend, Ryan McElvey, January 18, 2018:
He heard a loud CRACK, and seconds later the first cry for HELP echoed across the frozen water. Now, a choice had to be made: continue running for his own safety, or run back across the ice of Hondegat pond?
The year was 1569 and Dirk was being held for "rebelling" against the authority of the Dutch government by rejecting his own infant baptism and becoming re-baptized. He was locked in a residential palace prison which was surrounded by a moat and under guard. Dirk had been in prison so long that he had lost weight. He kept tightening his belt, but if a verdict wasn't reached soon, he would eventually face a death of starvation.
As time wore on in captivity he began planning his escape by taking cloth rags and secretly knotting them together into a rope. Eventually he was able to make his rope long enough to suspend from the window of his prison onto the moat below. Dirk waited until a day when the moat was frozen, and then he lowered himself out of the window and onto its glassy surface. He shuffled across the icy moat away from the palace as quickly and quietly as he could.
But before he was even out of sight of the palace he heard a shout of alarm from the bulwarks. His escape had been discovered. Looking back he soon saw one of the guards running after him. Dirk continued to run, but he felt like his legs couldn't move fast enough, and he realized that the meager food rations and sedentary life in prison had taken its toll on his body. With the guard gaining on him Dirk set out across the ice of Hondegat pond, hoping to gain some distance by shuffling over its slippery surface.
Then he heard a loud CRACK, and seconds later the first cry for HELP echoed across the frozen water. Now, he was faced with a choice: continue running for his own safety, or run back across the ice of Hondegat pond?
Had the Lord delivered Dirk from his enemy? Had Dirk now gained his freedom because the Lord had allowed the guard to fall through the ice to his death?
-Or-
Was the Lord giving Dirk the chance to love his enemy in radical obedience by going back to save him?
Dirk knew what he had to do. He turned around and went back. There in the icy hole his pursuer was bobbing in the water, crying out and desperately grasping at the air. In full Christ-like imitation Dirk laid down on the ice, stretched out his arms, reaching out to save his enemy.
But upon saving his enemy's life, Dirk was immediately taken back into custody and held prisoner in a church tower, from which there was no way escape. Only four days after his recapture Dirk Willems was given the death sentence to be burned at the stake. The story goes that the wind was blowing that day, and because he wasn't inhaling the smoke, it prolonged his death. His screams were heard from a great distance, but unlike the screams of the guard on Hondegat pond, no one came to Dirk's rescue.
. .  it seems so long ago, and yet the story echoes across history and we can still hear the cries from the broken ice. Do I love my enemy, or do I see his misfortune as "God's judgement" on him and as an excuse to leave him behind?
Obviously, loving my enemy doesn't always have the drama that Dirk Willems experienced, but is my spirit the same as his? What about the co-worker who takes advantage of me? The business that didn't give me the product or service I paid for? The driver who cut me off? The backstabbing brother in Christ? Do I love in all these situations? Doing good in return for his bad, blessing in return for his curse, praying for those who mistreat me, giving freely to those who take from me?
Why did Dirk Willems go back and save his enemy, only to die for his act of mercy? And why should I love those who do me wrong?
Jesus tells me to love my enemies, because Jesus loves His enemies, even enough to die for them. . . to die for me. To Jesus, I am the guard struggling in Hondegat pond, and He reaches out to save me, only to die Himself.
"For you have been called for this purpose, since Christ also suffered for you, leaving you an example for you to follow in His steps. . . When He was reviled, He did not revile in return; when He suffered, He did not threaten, but continued entrusting Himself to Him who judges justly."     (1 Peter 2:21, 23)
PRAYER: Jesus, even though you commanded us to love our enemies, we find it often too much of a challenge to even love our friends as you have loved us. Give us hearts that love as yours does – even for our enemies, that we might be willing to die for them. In Jesus' name, Amen.
COPYRIGHT 2018 by Galen C. Dalrymple. All rights reserved.