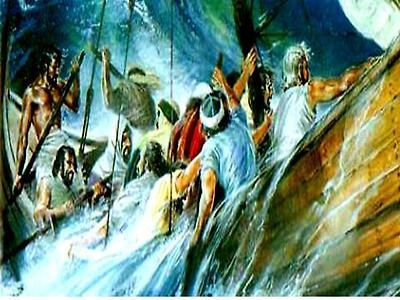 DayBreaks for 6/05/17: What to Do With Believers
First, let me say that 20 years ago yesterday (6/04/97) marked the first ever DayBreaks. I thought about re-sharing the first DayBreaks I ever sent out, but decided against it. Instead, I just want to say this: I never expected DayBreaks would last so long. There have been times I've debated whether or not it was time to stop, but I never sensed a clear direction from the Lord to do that, so for now, we'll continue on. But even more than that, I've come to love many of you who have written over the years, shared parts of your life (good and bad) with me as you wrote and told me your stories. I am humbled and honored at your trust. In addition, some of my best friends have come through DayBreaks – and I shall cherish our friendship and relationship as long as I live. Thank you to all who have shared this journey with me!
From the DayBreaks archive, June 5 ,2007:
An article I recently read by Mark Buchanan made an interesting observation about Jonah chapter 1 and Acts, chapters 27 and 28.  Both of those passages tell the story of a God-worshipper who is on board a ship, surrounded by unbelievers.  In both cases, a violent storm blows up on the sea and the "mighty ship was tossed" (to borrow a line from Gilligan's Island!)  So severe was the storm in both cases, that the crew reached a conclusion that they would rather have not reached: all the cargo on the ship would need to be thrown overboard.  It wasn't a case of their profits going up in smoke, but of their profits going down to Davey Jones' locker.  But, at least in the case of Jonah, he was considered "cargo".  Somehow, the pagans felt this disaster in the making was due to someone who had offended the gods, and Jonah was singled out. 
Remember: Jonah is on board because he's fleeing from God.  When confronted by the pagan sailors, he's boastful about himself and disdainful toward them.  As it turns out, there's only one way for those pagans to survive the storm: they have to get rid of the God-worshiper – they have to throw him overboard.  And they do just that.
Not so in Acts.  There, the apostle Paul is on board the ship precisely because he has been following God.  He's a prisoner of Rome, on his way via ship to be tried in front of Caesar, but even more important, he's a man on a mission sent from heaven, who has been being obedient to that calling.  When the pagan sailors panic, Paul is wise, humble, and helpful – quite the opposite of his predecessor, Jonah.  Paul lets those terrified shipmates know that he cares deeply for them.  It turns out, there's only one way for those pagans to survive the storm: they have to put the God-worshiper, the one who showed concern for them, in charge.
The point that Buchanan draws is this: the more that we genuinely care for the people in this storm-wracked world—the less we boast and denounce, the more we bless and serve—the more they will let us – and the Jesus we serve – into their lives and lives and souls will be redeemed and saved!
PRAYER: May we be the kind of God worshippers that You are pleased with.  May we answer Your call, may we be meek and humble, may we care and not denounce unnecessarily!  In Jesus' name, Amen.
Copyright by 2017 by Galen C. Dalrymple.  ><}}}">