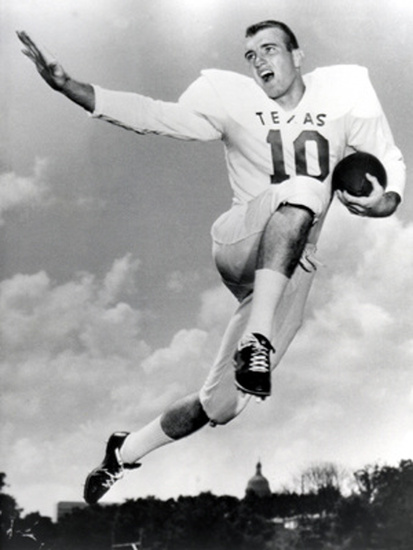 NOTE: I am on a "retirement/anniversary" trip and will be out until late September. In the meantime, I'm sharing recycled DayBreaks for 2010. Thanks for your understanding!
From the DayBreaks archive, September 2010:
Who have you let down already today? Maybe no one, so ask yourself that question again tonight when you go to bed and see if your answer has changed!
We all have been guilty of letting others down. Sometimes we get over it, sometimes we don't.
Noble Doss was a football player – an excellent one. He dropped lots of passes throughout his career, but in spite of all he caught, he painfully remembered one he dropped. In 1941 he was part of the University of Texas football team that was ranked #1 in the nation heading into a matchup with their conference rival, Baylor University. They held hopes for an undefeated season, but for that to happen, they would have to win the game against Baylor. In the 3rd quarter of their game, Doss' team was ahead 7-0 when the Longhorn quarterback hurled a long pass to Doss, who was wide open. The only thing I had between me and the goal was 20 yards of grass, Doss recalls. The pass was right on target and as one, the Longhorn fans rose cheering to their feet. Doss locked his eyes on the ball and reached out for it, but somehow, it slipped through his hands. With just seconds remaining later in the game, Baylor tied the score, Texas lost their top ranking, and their chance to go to the Rose Bowl and to have a perfect record. Until he died in 2009, Doss said: I think about that play every day. He felt, keenly, that he'd disappointed his teammates and let their fans down, too.
Sure, he had plenty of other memories: he was married more than 60 years, was a loving father, grandfather, and he served in the Navy during WW2. He'd been on the cover of Life magazine with his Texas teammates, he intercepted 17 passes during his college years – a UT record that stands to this day. He went on to win 2 NFL championships with the Philadelphia Eagles. By all accounts, Doss was a man of great integrity and honor – that's what everyone said about him – even while he was still living! But while most people remember the life he lived, the plays he made and the TD's he caught, Doss remembered the one he didn't catch. In fact, when he once met a new UT Longhorn's head coach, Doss told him about that play, and he wept when he spoke of it.
Fear of failure is crippling. Because we are afraid we may fail (and let ourselves and others down) we may never get into the action at all. Or, perhaps because of a failure in your past, you no longer are involved in ministry, outreach or fellowship. You may have withdrawn, and like Doss, you fear you will carry that disappointment with you until you die – and that it will often bring tears when you think of it.
You fear that you may disappoint God – and that may be the deepest fear any of us carry. After all, if we disappoint God – well, let's just say that's not a good thing to do. We fear that God may give up on us. Yet He knows our make-up – that we have deceitful hearts, that the imaginations of our hearts are evil continually, that no good thing dwells within us. He knows all those things about you and me – and He still died for us. Does that sound like Someone who is going to give up on you?
PRAYER: Father, we are so grateful that You love us with a love that refuses to give up or let go of us! Help us get over our fears of failure, of disappointing You, and trust in Your amazing grace and love! In Jesus' name, Amen. Copyright by 2020 by Galen C. Dalrymple. ><}}}">