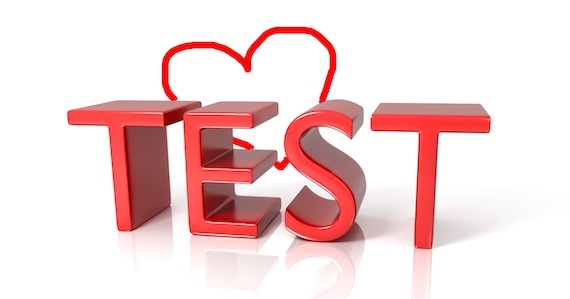 DayBreaks for 11/21/19:

The Test of Love
From the DayBreaks archive, November 2009:
It is so very easy for me to love my wife, my family, my dog! It is not something that I have to work at hard at all.  That's not to say that my love for them is perfect in any way.  Can I love them more?  Yes, I probably could in theory – but I don't know how to do that.  I can't imagine loving them more than I do, and if I did, I might be guilty of loving them too much.  (Jesus suggests that possibility in Mt. 10:37). 
So, how do I know that I love them?  I feel it in my heart.  But I must be careful to not let my feelings trick me and make a fool of me.  Feelings are way too changeable to trust.  There must be a stronger, more stern, proof than my feelings.
Paul Faulkner, a family therapist, described a man who determined in his heart to help out a very troubled teenage girl by adopting her into his existing family.  Why he chose to do it was not clear: she was very destructive, woefully disobedient and as dishonest as the day is long.  One day, while he and the rest of the family were gone at work and school, she cut class, came home and trashed the house looking for money.  When the man got home, she'd already left and the house was in a real mess.
His friends heard about what had happened and they encouraged him to not finalize the adoption.  They all said she would amount to no good, that he didn't owe her a thing because she wasn't really his daughter.  His reply to that statement was, "Yes, I know.  But I told her she was."
Here's the point: God has chosen to adopt us as His own beloved children.  We rebel, we trash the house, we talk smack about God and His goodness, we complain.  And our actions towards Him often seem to be anything BUT loving.  It would be one thing if God were to love us when we're good, when we cheerfully obey.  But that's not much of a test of love, is it?  The measure of His love is tested and revealed for what it is when we trash His house and steal what belongs to Him.  That is the test of real love.
And why doesn't God just stop the adoption process that He started before the foundation of the world when He chose us in Christ Jesus?  Because He's told us that we are his sons and daughters.  We may ransack the house, but we cannot dampen His love for us.  We may run roughshod over Him, but He still calls us "son" or "daughter".  And He will complete our adoption because He told us He would.  Praise God that HIS love passes the test that ours never could!
…just as He chose us in Him before the foundation of the world, that we would be holy and blameless before Him. In love He predestined us to adoption as sons through Jesus Christ to Himself, according to the kind intention of His will, to the praise of the glory of His grace, which He freely bestowed on us in the Beloved.  Eph. 1:4-6 (NASB)
PRAYER: For our adoption and the Spirit which is the guarantee of our eventual inheritance, we shout "Hallelujah!" to Your name!  In Jesus' name, Amen.
Copyright by 2019 by Galen C. Dalrymple.  ><}}}">