DayBreaks for 7/08/14 – The Mystery of Sovereignty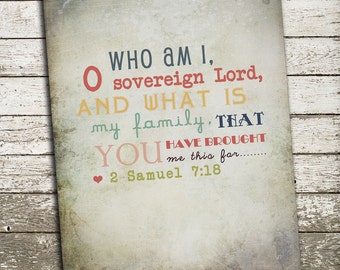 Exodus 33:19 (NIV) And the LORD said, "I will cause all my goodness to pass in front of you, and I will proclaim my name, the LORD, in your presence. I will have mercy on whom I will have mercy, and I will have compassion on whom I will have compassion.
Romans 9:20-21 (NLT) No, don't say that. Who are you, a mere human being, to argue with God? Should the thing that was created say to the one who created it, "Why have you made me like this?" When a potter makes jars out of clay, doesn't he have a right to use the same lump of clay to make one jar for decoration and another to throw garbage into?
Lord, I do not understand.  Please understand that I'm not complaining here – far from it! – just humbled and mystified.  I am so grateful that You, the Sovereign God of the Universe, chose to spare the life of our son over the weekend.  But I know that there are others who lost loved ones over the weekend…and You didn't spare them or extend grace and mercy to them (as we perceive it.)  I try wrestle with the "why's" of it but all I can grasp is air. 
I know, deep inside, that our son was not one bit more deserving of Your mercy and grace than anyone else in the world.  Our son is a sinner – saved by grace – but a sinner nonetheless.  I also know this: that You love our son, but You don't love him any more than you love everyone else in this world.  It wasn't because of a special love toward him that You saved him and "took" others. Yet You spared him.  Oh, grateful heart toward our Almighty God!
For those You didn't spare I have no explanation nor words that can salve their pain.  It is what it is: a mystery woven by Your infinite wisdom and plan, unintelligible to mortal creatures such as us.  Why did You spare a son of my flesh yet take home a young mother of two little girls, or the baby that was sleeping peacefully in her crib only to be cold and still in the morning?
It doesn't seem fair to us and we are prone to complain and rail at You when You choose not to spare a life or cure a disease or refuse to send a child to those who long to cradle a little one.  Yet, who are we, mere humans, to argue with You?  Why should we expect to understand Your thoughts or Your ways when we are told that we cannot? 
It is hard being in the dark on such matters, Lord.  It forces us into a position of total and utter reliance on You, to trust that You do know what You are doing and that You have perfect reasons for every decision You render.  Help us to truly believe fully in Your goodness and Your plan that You tell us is for good and not for harm.
Thank You for reminders that we are but clay and that our bodies shall all return to the dust from which we came and our souls shall stand before You to give answer for the things we have done in this world.  Thank You for wake-up calls and reminders that You graciously shower on our way to remind us of our frailty and dependence on You for every single heartbeat.  Were it not for such things we might delude ourselves into thinking we are already immortal and invincible – and that is a very powerful and deadly delusion!
Thank You, for this undeserved measure of Your mercy, grace and love.
PRAYER: Thank You, Lord, for the fact that in You is light and there is no darkness at all, even when it seems contrary to our understanding! In Jesus' name, Amen.
NOTE: Galen, a missionary with Medical Ambassadors International (MAI), raises his own support.  DayBreaks is free – but if you wish to help support his mission work, you may donate (one-time or recurring) by going to this link, then scroll down until you see SUPPORT MISSIONARIES section.  Below that header, on the left, scroll and then find and click on "Galen Dalrymple" and you'll be taken to where you can make your donation.  If you prefer to donate via check, you may do so by writing your check payable to Medical Ambassadors International and put S090 in the "memo" field. Mail the check to Medical Ambassadors International, P.O. Box 1302, Salida, CA 95368.  MAI is a 501.c.3 organizations so all donations are tax deductible and Medical Ambassadors takes NO administrative fees of any kind out of your donations!
Your support would be deeply appreciated!