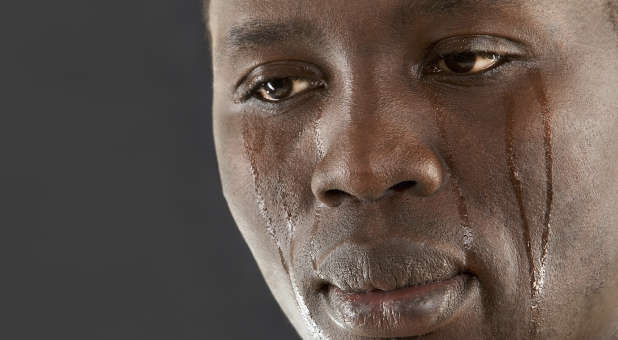 DayBreaks for 5/26/17: A Proof of the Truth of Love
From the DayBreaks archive, May 2007:
Tears.  Sorrow.  Grief.  Three words that we hope don't come anywhere near us, for when they do they are always unwelcome visitors.  Would that life were always full of joy, happiness and laughter!  That is, after all, how God intended for life to be, and how it will someday again be for those who love Him! 
In the meantime, we are awaiting that revealing and dawning.  And as the ocean is full of water, so our lives are full of tears.  It doesn't take much for me to cry.  I am sometimes embarrassed by my readiness to cry, wishing that I were more stoic, that perhaps things didn't affect me as much.  Those are usually times when I am in a public situation, sometimes in the pulpit, or at the beside of a person in great pain and facing death. 
What can you say to someone who is crushed, broken hearted by loss or some great sorrow?  I know I struggle to find words.  They do, too.  They may be crying, and yet they still seem to be able to say, "I'm sorry for crying."  I usually am quick to assure them that tears are not bad.  Jesus cried.  And I tell them that tears are a part of the language of love, for if we did not love, we would not weep with loss.
I found it interesting that my oldest son, Doug, was reflecting on this the other day in his blog, when he wrote: "Perhaps sorrow like this can be a kind of gift, too.  It is at least proof of the truth of love, and hope is never far from love." (Doug Dalrymple, 5/10/07, The Scrivener)
The sorrow that produces weeping is a gift, for it reveals what is in our hearts, and if nothing else, surely it must be proof of the truth of a love that may have even gone unexpressed in happier times. 
Let your tears flow when you need to cry.  They are part of God's heart, too.
PRAYER:  Lord, may we join in the weeping that comes from your heart for this broken and bloody world of darkness and loss.  May we weep unashamedly because of the love that you put into our hearts for You and those around us.  And may we also weep for our brokenness.  In Jesus' name, Amen.
Copyright 2017 by Galen Dalrymple.