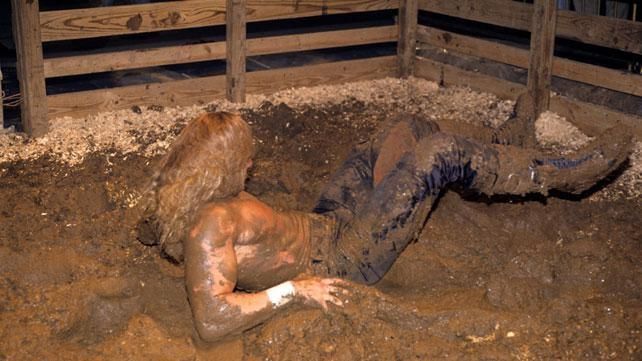 DayBreaks for 08/08/19:

The Trouble with Wading through Slop
From the DayBreaks archive, July 2019:
I am originally a farm boy.  I'm fortunate in some ways (and unfortunate in others) in that we moved off the farm before I got old enough that I had to routinely help clean out the chicken coop or slop the pigs or clean out the cattle stalls.  You can, perhaps, imagine what those jobs are like.  I "got" to do some of them while we lived on the farm, and did more when I would return to my aunt's and uncle's farms in the summertime.  One thing for sure: when you went into the stalls or pens to clean them out, you better be properly attired!  One thing about it, though: if you got contaminated by the stuff you were cleaning out, you knew about it – all you had to do was follow your nose to the evidence!  For years, one of my cousins was a hog farmer – raising bacon for your table and Easter dinner.  Working around all the hog slop the odor was so pervasive that his wife said even his glasses had absorbed the smell!
Of course, we don't always know it when we get contaminated – we find out after the disease has incubated and sprung to fruition.  Think of those who have flown on airliners who contracted colds, swine flu, avian flu, or other diseases. If one knew they would become contaminated on a safari to Africa or trip to Asia, would they go?  It probably depends on how severe the contamination might be, but most people would probably forgo the trip – especially if one knew that the disease they would contract had a 100% mortality rate.  Only those who wanted to commit suicide would go on such a journey!
How different this is when it comes to spiritual matters.  Rather than avoiding things like the plague, we seem to want to get as close as possible to it, even to snuggle up to it, thinking that we can rub noses with temptation and sin and walk away uncontaminated.  Listen to this verse from the Old Testament: Or if a person touches anything ceremonially unclean–whether the carcasses of unclean wild animals or of unclean livestock or of unclean creatures that move along the ground–even though he is unaware of it, he has become unclean and is guilty. – Leviticus 5:2 (NIV)
Now I know that we're not under the ceremonial laws – that's not the point.  What is the point is that this verse clearly indicates that we can become "unclean" and "guilty" without even knowing it!  Evil and sin is so pernicious and so virulent that we can contract guilt unknowingly.  In other words, it's hard to keep the effects of slop away if you spend time surrounded by it!!!!
Where have you been wading?  Are you walking in paths of righteousness hand in hand with the Savior, or are you knee deep in slop? 
PRAYER:  Father, we are so weak when it comes to temptation, and our flesh is still far too strong for us to win this struggle alone.  Make us aware of the stench of sin and how it permeates us even when we are unaware!  Thank you for the cleansing power of the blood!  In Jesus' name, Amen.
Copyright by 2019 by Galen C. Dalrymple.  ><}}}">