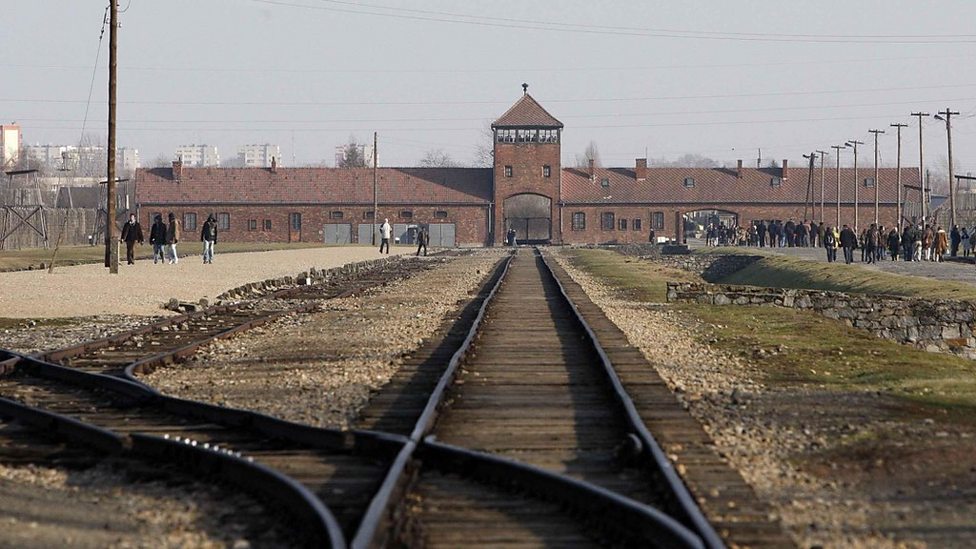 DayBreaks for 7/20/16 – Where Was God in Auschwitz?
From the DayBreaks archive, July 2006:
I've read a lot in the past few years about the Jewish holocaust.  What a horrible and terrible chapter in the life of humanity!  One of the loudest questions of all time is asked about the Holocaust, and was echoed by Harold Schulweis in For Those Who Cannot Believe:  "The Holocaust mocks my faith.  For at the core of that faith is the conviction that God breathed into the nostrils of human beings an inviolable human soul, that God created the human being in His image and in His likeness.  The taunting dissonance between that faith and the facts of the Holocaust disturbs my belief.  The picture of a child hanged in the presence of parents in the concentration camp brings to mind a rabbinic commentary on the hanging of a criminal based on a verse in the book of Deuteronomy 21.23: A criminal sentenced to death and hanged must not remain overnight upon the tree because it is "a reproach to God." Why a reproach to God?  The rabbinic answer is offered in the form of a parable: Once a noble king had a twin brother who violated the law and was hanged on a tree in the public square.  People passing by the corpse of the king's twin took him to be the king and shouted, "Behold, the king is dead!"  The king was humiliated.  
The parable is breathtaking.  God and man, at some level, are as it were twins.  To deface the image of man is to blaspheme the Creator of that image.  God is not raised by lowering the human image…Who before the memory of cremated children can declare the twinship of God and man? …But where was the Adonai (the Lord) in Auschwitz?  Where was the power and mystique of Adonai within the hell of the Holocaust?"
"Where was Adonai in the Holocaust?  Adonai was in Niuvelande, a Dutch village in which 700 residents rescued 500 Jews, including 100 Jewish children.  Adonai was in Le Chambon-sur-Lignon, whose citizens hid and protected 5000 Jews under the inspired leadership of Pastor Andre Trocme.  Adonai was in the rat-infested sewers of Lvov, where Polish sewer workers hid 17 Jews for 14 months."  His list goes on, and he finally says: "Holocaust scholars now estimate that there were between 50,000 and 500,000 Christian rescuers.  Whatever the number, there were too few.  Sadly there are always too few moral heroes in history."
"How ironic that our children … know the names of Klaus Barbie, Goebbels, Goering, Eichmann, Himmler and Hitler but not the names of those who risked their lives to hide and protect the Frank family….When the rescuers are asked "Why did you risk all this?" they typically respond "What else could I do?  What would you do?"
For today, let's just ask ourselves the questions that Schulweis' book asked: "That question places a mirror to my soul.  Would I open the door?  Would I hide this pursued pregnant woman?  Would I take care of her needs?  When rations during the war were so meager would I risk getting extra food without raising suspicion?   Would I take an infant into my home whose cries might reveal our hiding place?  What would I do with their refuse or with their bodies after their death?  Stefa Krakowska, a Polish peasant, hid 14 persons in her home, ranging from age 3 to age 60, in a home in which a simple pail served as the toilet.  When an older Jewish woman fell sick and knew herself to be dying, she turned to Stefa.  "My God, my dead body may bring disaster to you. What will you do with my body?" She feared for the others' safety.  She died.  At night, secretly and in stages they buried her dismembered body in Stefa's garden." 
"Sadly, there are always too few moral heroes in history."  What a haunting observation.  But there is good news, too. To be a moral hero you don't have to be a king, wealthy, powerful or attractive.  What you do have to do is be faithful…and that's something that any man or woman can choose to do.  You, and I, can be moral heroes for the cause of Christ.
I'm often afraid to speak out because God's point of view isn't popular.  As a group, Christians today lack the moral courage to speak, live and act on our convictions and on what we know to be truth.  Let's be the moral heroes that this world so desperately needs and that God wants us to be.  Let it never be said that in our day there were no moral heroes.  Let us be those heroes to our friends, family, co-workers and even our enemies.
PRAYER:  Give us moral courage to follow You through life and death.  Let us, as we stand around the campfire when You are on trial in this world, not deny You, but let us speak Your name boldly, proudly, humbly.  Let us be the heroes You need us to be in our own day and age.  In Jesus' name, Amen.
Copyright 2016, Galen C. Dalrymple. All rights reserved.