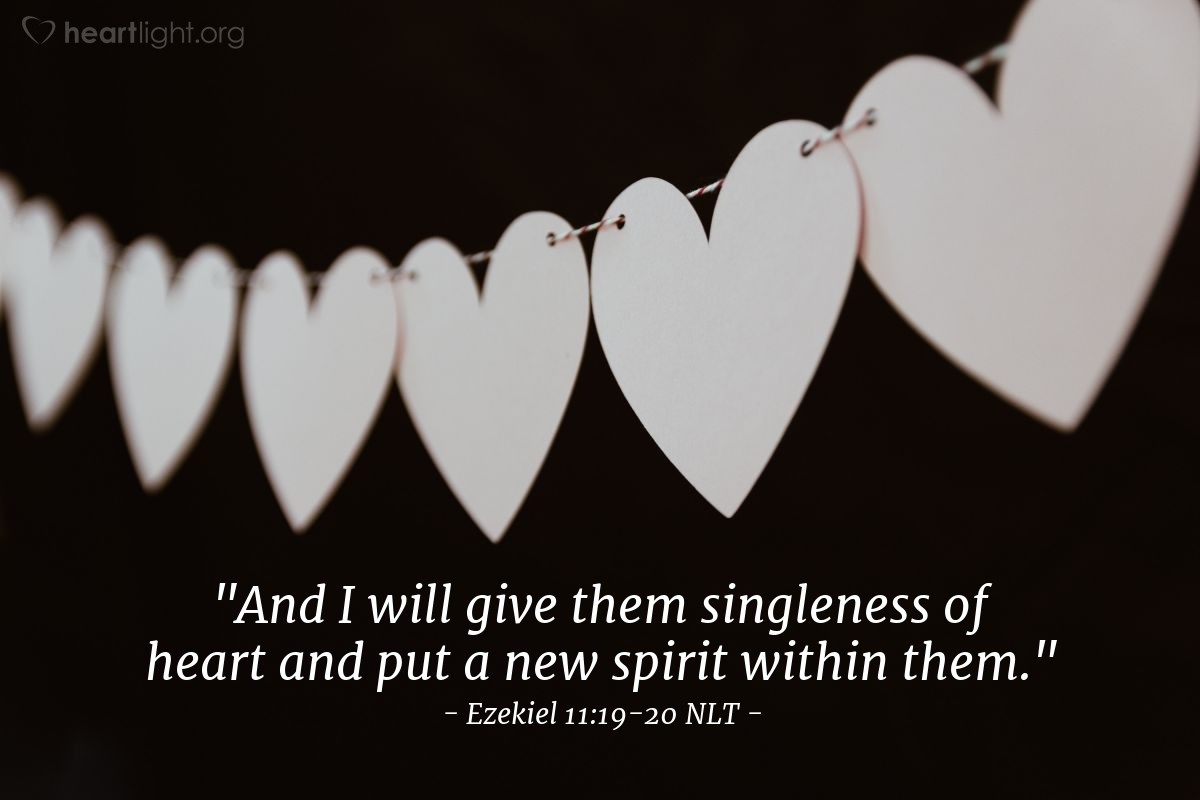 DayBreaks for 8/15/18:

Singleness of Heart
From the DayBreaks archive, August 2008:
Every so often it seems that an individual, or group of people (even as large as a nation at times), gets it into their head to do something and they are driven to do it.  Such was the case with Kennedy's challenge to put men on the moon by the end of the '60's.  If some of our politicians who are running for office today are to be believed, we can do all sorts of things if we just decide to do it. 
I'm not quite as convinced.  While the elimination of hunger and poverty are good and worthy goals and we all should work as hard as we can towards those ends, Jesus himself said that "the poor will always be with you."  And how about eliminating war?  Scripture says that in the end times there will be wars and rumors of wars.  How I wish it were not the case, but it is. 
Still, it is fascinating to read of wholehearted human endeavor—amazing stories of total dedication and commitment to a cause or purpose.  For example, the U.S. Marines have a super secret sniper program that is run out of Quantico, Virginia.  The sniper school admits 25 people for an eight-week course consisting of 16-hour days of training and practice.  Very few who enter the program will pass.  To graduate, each must go on a mock mission into a well-defined area where instructors search for the sniper.  If they can find him, they can fail him.
To get within range of the target, the sniper may have to move forward at a rate of only one inch per hour.  They may sit or lay in position for days – absolutely still, despite cold, rain, insect bites, and fear.  No one gets out of the Marine Corps sniper school without singleness of heart.
We expect that kind of intensity from Olympic champions, concert pianists, neurosurgeons and everyone else at the highest levels of human achievement.  Somehow, we've gotten it into our head that since our God is a very loving and forgiving God (very true) who wants no one to be lost (also very true!), that we can have a lukewarm commitment and dedication to Him.  Not so.  God expects single-mindedness and complete dedication when we come back to Him.  God deserves such singleness of heart because He is God! 
Sadly, many intend to come back to God—sometime.  But they may well fail because their intention never becomes intense.
How committed to living as godly of a life as possible are you?  What can you offer as proof and evidence of that kind of single-hearted dedication?
Jeremiah 29:13-14 – You will seek me and find me when you seek me with all your heart. I will be found by you," declares the Lord, "and will bring you back from captivity."
PRAYER: Our hearts and minds are so easily distracted, Lord!  Help us to have single vision – and to focus that vision on the cross!  In Jesus' name, Amen.
COPYRIGHT 2018 by Galen C. Dalrymple. All rights reserved.