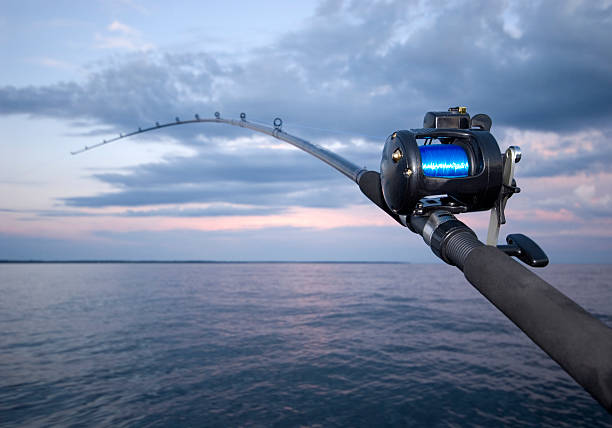 DayBreaks for 1/08/18: A Fisherman Extraordinaire
From the DayBreaks archive, 2008:
I've recently finished preaching a series of messages from 2 Peter 1:1-11 and I've really come to appreciate the apostle Peter more than I ever had before.  I have always liked John, and Paul was, without a doubt, an incredible advocate for the Christ.  Peter – well, I suppose that I remembered too many of the stories from my childhood that seemed to emphasize his flaws.  Peter didn't write a gospel, but he almost did: most believe that the gospel of Mark was a collection of stories that Peter told about living with Jesus for 3 years.  If so (and it is quite likely true that Peter told those things to Mark who wrote them down), it is interesting how Peter presents himself, especially at the beginning:
A man who brashly asks to walk on the water, but who was last seen sinking and on the verge of drowning before the Lord lifted him up;
We've seen Peter pretending to be a ninja when he attacks the high priest's servant with a sword during the arrest of Jesus – and we learn that his skills as a swordsman aren't very good because he wasn't swinging at the ear, but the man's head;
We find him falling asleep in the prayer meeting Jesus organized in the garden of Gethsemane on the night he was betrayed;
We see him sputtering lies and nonsense, denying his dearest friend – at precisely the moment when Jesus most needed him as a friend.
Why did Peter tell those true stories?  Because they make Peter easier to trust, to believe in.  And they give us hope, too.  That's the irony of a humble man: the more he admits his failings, the more likely we are to throw in our lot with him – to like him.  There is, after all, no fool as dangerous as a man who doesn't know he's a fool.  But a fool who confesses it and learns from it – ah, there is a man or woman we can trust, for they are learning life's lessons and gaining in wisdom.
But what Peter doesn't tell at all is that he became the undisputed leader of the 12.  In spite of all the above, Jesus never gave up hope in Peter.  He saw things in Peter that Peter never could have imagined.  Peter had likely only ever dreamed of taking over his father's fishing business and being able to put bread and butter on the table for his family.  And then one day, a stranger came along the sea shore and spoke words that stirred Peter's heart, and Peter accepted the man's invitation to learn to catch men instead of fish. 
There are many days when I look at my list of failures (and it's certainly a longer list than Peter's!) and think that I'll be lucky if I can get the job as the groundskeeper outside of the pearly gates – forget about even getting inside.  There are times I've felt that surely God must be saving the deepest cell in hell for me and Satan.  When I begin to feel that way, I need to stop listening to Satan as he tries to fill my head and heart with discouragement and start listening to Jesus, who whispers to me that he loves me, that all my sins have already been paid for and taken away and thrown into the depths of the sea.  I need to remember that he calls me precious, beloved, his child.  In short, Jesus whispers to me, "Remember Peter?  See how he turned out?  You'll be no different, because it wasn't Peter that made himself change – it was me who changed him, and I'm going to do the same thing with you."
I know that I'll not be the second-coming of Peter.  But I don't have to be.  I just have to be who God made me to be, and who He is changing me to become. 
Peter never would have dreamed that he'd preach the first gospel sermon on Pentecost and that 3000 would believe through the words that God gave him to speak.  After he'd denied Christ in the wee hours of Good Friday, he never dreamed he'd have the courage to go to the cross himself and give his life for Jesus (as Jesus had gone to the cross and given his life for Peter.)  By God's grace, Peter became all that God meant for him to be.
By God's grace, we, too, shall become what He wants us to be.
PRAYER:  Lord, thank you for your whispers of reassurance that you love us just as we are and that you're constantly at work to see us become the finished work of art that you intended us to be before we were born.  Thank you for the love that refuses to let us go, no matter how great our failures!  In Jesus' name, Amen.
Copyright by 2018 by Galen C. Dalrymple.