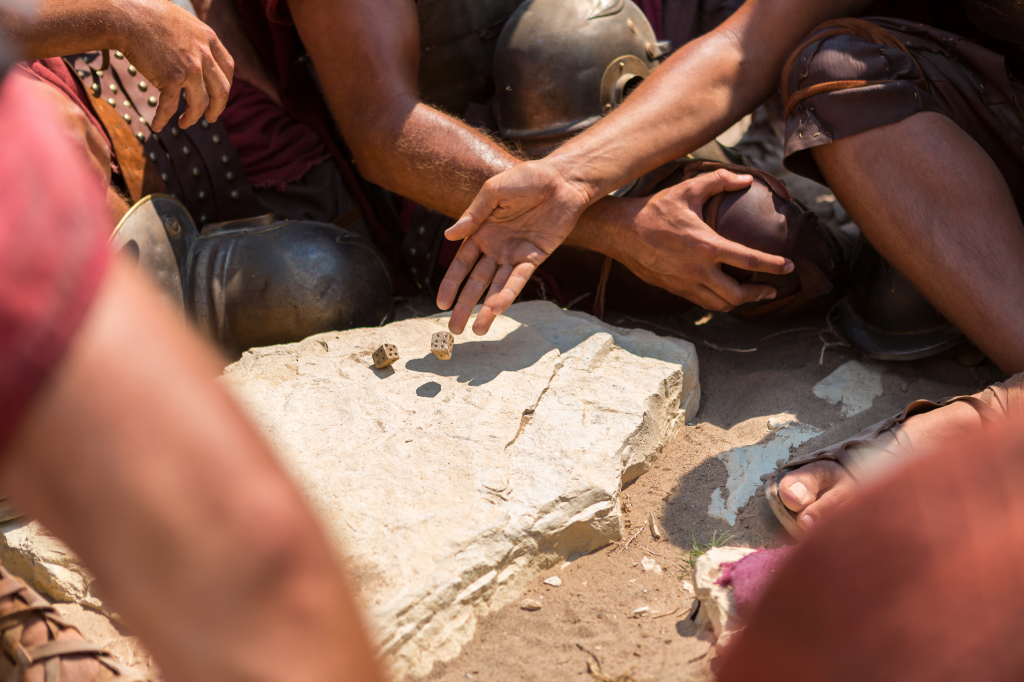 Matthew 27:35-36 (NLT2) – After they had nailed him to the cross, the soldiers gambled for his clothes by throwing dice. Then they sat around and kept guard as he hung there.
The day started like any other for the Roman soldiers. Another day, another execution. So they went to the hill called Calvary, nailed the offender to the cross and then got down to the serious business of gambling – right at the foot of the cross.
There were items to be divvied up – a cloak, an inner garment and some sandals to be sure. So they bet on who would get what and a few walked away with the spoils from the Nazarene.
Have you thought about how that scene must have looked to Jesus as he looked down at them? It must have been mind-blowing! Here they were, mere feet away from the most important and earthshattering event ever – and they were oblivious to the simple fact that it was God on the tree. At least they all seem to have been oblivious except one who eventually started paying attention and made his own startling declaration about who they were killing.
Oh, it's so easy to be shocked by their behavior and games they were playing at the foot of the cross! But let's not miss this: we aren't that different than those soldiers – even those of us who bear the name of the Crucified One!
Consider: churches fight over a finite population of potential members. We dole out condemnation and judgments. We are seeking our own personal gain (a sandal here, a cloak there) to get ahead, get something for free.
We hold rallies celebrating how righteous my cause is and how unrighteous you are if you differ from my views. We write books about what other believers are doing wrong. We major in telling tales about the "others" and take joy in unveiling weaknesses – not for the purpose of restoration – but to take them down! We argue over points of "doctrine", about other denominations and whether or not they are "of the Lord".
And Jesus must look down at us in stunned disbelief.
As Max Lucado put it: "We, too, play games at the foot of the cross…So close to the timber yet so far from the blood…we are so close to the world's most uncommon event but we act like common crapshooters huddled in bickering groups and fighting over silly opinions.
"May they all be one," Jesus prayed.
"One, not one in groups of two thousand. But one in One. One church. One faith. One Lord. Not Baptist, not Methodist, not Adventist. Just Christians. No denominations. No hierarchies. No traditions. Just Christ."
What can we do to stop playing games at the foot of the cross? Build bridges, toss a rope to someone struggling to keep their head above the swelling tide, pray for unity. Choose to "be the soldier who snaps to his senses, jumps to his feet, and reminds the rest of us, 'Hey, that's God on that cross!"
There are far too many games being played at the foot of the cross. Let's refuse to play those petty games any more!
PRAYER: Jesus, take mercy on us! Turn us from game playing to Kingdom building! In Jesus' name, Amen.Copyright 2020 by Galen C. Dalrymple. ><}}}">