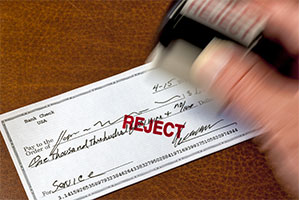 DayBreaks for 7/10/17: Writing Checks You Cannot Cash
From the DayBreaks archive, July 2007:You may have heard the phrase, "You're writing checks your body cannot cash."  More often than not, it applies to either an athlete or some famous person who is demanding more of their body than they can reasonably do.  Sometimes it might be some ingénue or party guy who stays out until the wee hours of the morning partying, drinking…and then has to get up and go to work the next morning – and the scenario is repeated over and over again, each and every day.  Sooner or later, as another saying goes: the chickens come home to roost.  The Holy Word puts it a bit differently: You will reap what you sow.Thanh Nhat Le, 51, was arrested in Dorchester, Mass., in April, when he tried to cash a check he wrote to himself for $7,550 on his account at a Sovereign Bank.  He had opened the account two weeks earlier, handing over $171 in small bills.  He was certain that he had plenty of money in his account, though, because in the interim, he had also mailed the bank three checks for deposit:  one for $250,000; one for $2 million; and one for $4 billion.We laugh at Mr. Le, knowing how silly and foolish his actions (and apparently his thought processes!) were.  Now, if Mr. Le were Bill Gates, he might have been able to cash that check for $7,550, but alas, he was just Mr. Le.  Yet, how the question begs to be asked: are you thinking that you've been making deposits of good deeds into an invisible heavenly account, thinking that the day will come when you will meet your Maker and that you'll cash them in so that you can gain admittance to heaven?  It won't work.  The price of admittance to heaven is too steep of a price for any of us to pay – not even Bill Gates can pay it!  It's foolish to think that we can build up enough good deeds to please God.  Does that mean that God doesn't like it when we do good things?  No, he loves it.  But, good deeds won't get you any further than $4,002,250,171 of "deposits" got Mr. Le.  With our most righteous acts being like nothing more than filthy rags, our hope of heaven must rest on something else.  Jesus wrote the check and paid the bill that was as far beyond our ability to pay than the heavens are above the earth.  May we with humility and gratitude accept the gift He has given us!
PRAYER: Lord, may we bow before you as foolish children, yet grateful for what You have done.  Thank you, Lord Jesus, for giving us hope!  In Jesus' name, Amen.
Copyright by 2017 by Galen C. Dalrymple.  ><}}}">