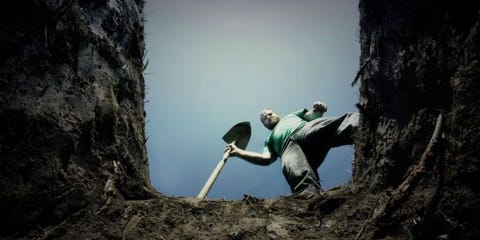 DayBreaks for 08/28/19:

Like Being Buried Alive
NOTE: Galen is on vacation for the next couple weeks and may not respond to any comments until he returns on 9/9/19.
From the DayBreaks archive, August 2009:
Of all my nightmares, perhaps none is as terrifying to me as being buried alive.  That, and falling from a great height are the stuff of sleeplessness for me.  I suspect that many are those who share my fears on both scores.  You could just as easily take the verse that says, "It is a terrible thing to fall into the hands of the Living God" and shorten them for me to this: "It is a terrible thing to fall!"  Heights, and being buried alive, give me the heebie-jeebies!
I found Mike Mason's insight in The Gospel According to Job very interesting as he described being a Christian this way: "The lot of God's children on this earth is something like being buried alive.  First we are raised with Christ and made into entirely new creatures, pure and blameless, washed and redeemed and lifted up to Heaven.  All of this happens by faith – which is to say, not in some imaginary way, but in a way more gloriously real than this present world can bear to behold.  Yet no sooner has this spiritual transaction taken place, no sooner have we been veritably seated with Christ in the heavenly realms, than immediately we are sent down to earth again , just as Jesus was, and entrusted with a mission: As the Father sent me, so I am sending you (Jn. 20:21).  The moment we are born again we are sent right back into the world of sin and death.  In fact, we are set back down into exactly the same circumstances in which we found ourselves before we were saved, and there we are told to take up the work of the Son of God in that situation, however painful it might be.  And this is a lot we are to accept with increasing graciousness."
Many find the Christian life a disappointment.  Yes, at the moment of conversion, there is a freeing of the soul from the chains of the grave and death.  Yes, there is joy at that moment.  But if the motive for becoming a Christian is to simply escape the tough things of this world, well, we'll be sadly mistaken.  After becoming a Christian, for however many years we sojourn here as God's kids, it is like being buried alive.  We know that somewhere "out there" is light, fresh air, beauty – but in the meantime we may only be able to see darkness and the air is foul and filled with a stench that comes from a rotting humanity still embroiled in sin.  And all the while, the devil sits and grins.  He grins when we despair that this Christian life doesn't bring immediate and lasting release from struggles – and that we get discouraged. 
I'm not able to choose the circumstances in life where God has placed me to do His work.  That's His prerogative as God to choose those things for me.  But I can and do have a responsibility for how I react to those circumstances.  Yes, remaining in this world is a bit like being buried alive – but I don't have to worry.  The day is coming when all who are in the grave will hear His voice…and His children will rise.  And the being buried alive will be over – and it will have seemed as nothing compared to even the first nanosecond spent in His literal Presence!
PRAYER:  Give us the grace to pass the years of our wandering with grace as we endure a temporary world with temporary troubles!  In Jesus' name, Amen.
Copyright by 2019 by Galen C. Dalrymple.  ><}}}">