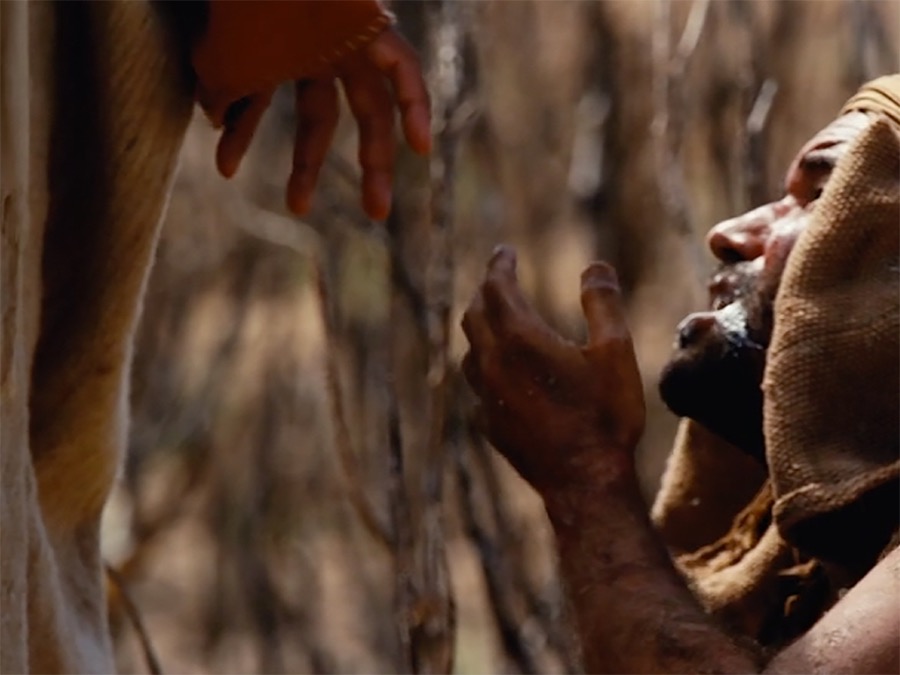 DayBreaks for 10/11/19:

Lessons from Legion
From the DayBreaks archive, October 2009:
They went across the lake to the region of the Gerasenes. When Jesus got out of the boat, a man with an evil spirit came from the tombs to meet him. This man lived in the tombs, and no one could bind him anymore, not even with a chain. For he had often been chained hand and foot, but he tore the chains apart and broke the irons on his feet. No one was strong enough to subdue him. Night and day among the tombs and in the hills he would cry out and cut himself with stones. When he saw Jesus from a distance, he ran and fell on his knees in front of him. He shouted at the top of his voice, "What do you want with me, Jesus, Son of the Most High God? Swear to God that you won't torture me!" For Jesus had said to him, "Come out of this man, you evil spirit!" Then Jesus asked him, "What is your name?" "My name is Legion," he replied, "for we are many." And he begged Jesus again and again not to send them out of the area.
In my opinion, this is one of the more intriguing miracles that Jesus performed.  I have often pictured this encounter taking place in broad daylight, but a close reading of the text would indicate that it was probably not the case.  Jesus and his disciples had left the other side of the Sea of Galilee late in the evening, encountered a storm, and had finally made it to the other shore.  Chances are it was dark – the time when ancients believed demons were especially active.  They also believed demons frequented dirty, filthy places – graveyards, especially.  It seems as if they had just reached shore when this man, who was so strong because of his possession, that he could break metal chains, comes charging out of the graveyard to confront Jesus. 
I won't go into the details of the story except to make several observations.  It is interesting how the man switches back and forth between singular expressions of speech and plural.  This clearly was a seriously possessed man – and a very confused one, too.  It is interesting that the demons were fearful that Jesus would torture them.  This probably refers to him sending them back to the pit of hell.  What a contrast to the rather comical view of hell that is often presented by many today that would have us believe that the demons shriek with laughter in hell over the plight of the damned.  Such is not the case – it is a place of torture, not just for the condemned, but for the demons, too.  They want no part of it.  How foolish of those who reject God because they think that they'll be happier with their friends in hell – picturing it as an eternal beer-bust party!
But here's what really has me thinking about this passage: having stood in the place where this transpired, I'd never tried before to put myself in the place of the possessed man.  No, I am not possessed by demons that cause me to break chains or wander unclothed, yelling and cutting myself with rocks.  But, are we not all possessed at some level by demons that haunt us – be they ghosts of past failings or the present specters of temptation?  I know within myself rage temptations that would want to have nothing to do with Jesus.  And sometimes, I feel as if I'm losing the battle – as this poor man must have felt from time to time.  I need to understand that it isn't just those foaming at the mouth or who are derelict that need what Jesus has to offer – I, too, am in desperate need.
Here's what really scares me and bothers me: just as this man didn't want his demons sent too far away, I have to ask, "Do I want my temptations sent so far away that I can't recall them and invite them back into my heart when I want them?"  I fear that I can't always answer in the affirmative to that question.  There is a part of me that longs for that very thing – and another part that longs for the status quo, temptations and all.  And that dichotomy haunt me.
The good news is that the demoniac, once his demons were gone, sat quietly and "in his right mind" at the feet of Jesus.  When I am in my right mind, I will do the same.
PRAYER: Free us, Lord, from the demons of temptation that haunt and pursue us, and for our love of sin that causes us to hold tightly to our temptations when we should be casting them away.  Have mercy on us and clothe us in our right minds that we might sit at Your feet!  In Jesus' name, Amen.
Copyright by 2019 by Galen C. Dalrymple.  ><}}}">