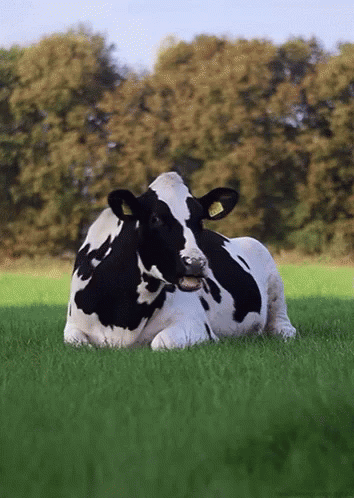 DayBreaks for 3/27/19:

True Contentment
From the DayBreaks archive, March 2009:
Growing up on a farm put a lot of images in my mind. Some are pictures of hard work that never seemed to be done, but others were more peaceful and relaxing. I don't know if you've ever had the privilege of watching a cow chew her cud, but I have. They just kind of lay down in the green grass (after having eaten a bellyful of the stuff), transfer some of the grass from one of their stomachs to their mouth, and contentedly lay there, looking around, chewing away without a care in the world. It is a picture of contentment.
You see, unlike us, cows are far too smart to worry about where their next meal will come from. They don't worry about what they will wear to the next church social or how the payment on the farm is going to be made. They are content just being cows. They probably look at us people and wonder why we scurry about so busily.
1 Tim 6:6-8 says: But godliness with contentment is great gain. For we brought nothing into the world, and we can take nothing out of it. But if we have food and clothing, we will be content with that.
We believe that we will be content someday. We tend to think that it will happen when we get to heaven, and I'm sure we will be content there. But we can learn to be content now. It is a mindset that comes from understanding the realities of life and this world. We need to remember that we came into the world with nothing and that is exactly how we'll leave. With nothing in our hands.
I like what Mother Theresa had to say about being content in the here and now: "Being happy with (God) now means: Loving as he loves, helping as he helps, giving as he gives, serving as he serves, rescuing as he rescues, being with him 24 hours, touching him in his distressing disguise."  What is the distressing disguise she talks about? I think she means people – he "disguised" himself with the tent of flesh, and sometimes the people he created don't appear very appealing, either. Yet, Christ was content to do the Father's will. He spent his lifetime touching us (mankind) in our distressing appearance. It takes a mindset that is focused on eternal things to be able to do what Christ did. Why else would anyone do it? We must have our minds focused on eternal things – and people are eternal. What else have you ever touched on this earth that is eternal except for some other person?
Let us learn to be content, not just when heaven arrives, but now, by being like Him.
Prayer: Let us find our happiness in You and in being Yours!  In Jesus' name, Amen.
Copyright by 2019 by Galen C. Dalrymple.  ><}}}">