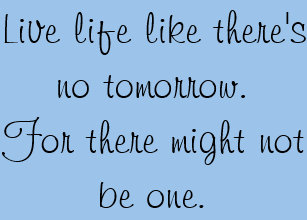 DayBreaks for 7/13/18: If There Were No Tomorrows
From the DayBreaks archive, July 2008:
I've already got plans for tomorrow…and for numerous days after that.  I am sure that you do, too.  It is a normal and very human thing to do.  As far as I know, humans are the only thing on the earth that formulates plans.  My dog may decide he's hungry, so he gets up and walks over to bury his face in the food bowl, but that's not planning.  I don't think that he has ever had a thought like this: "Tomorrow I'll get up, look out the window, bark at some birds, wander outside and chase lizards for 15 minutes to get exercise, take a nice, long cool drink, and then come in and slobber all over Galen."  If he had thought such things, that would have been planning. 
My plans for tomorrow are varied.  Some will be just pure enjoyment, others are having to do with duties, and still others may or may not happen depending on how everything else works out and what might come up unexpectedly.  It isn't necessarily bad to have plans: we're told in the Proverbs that we should look at the ant and learn to prepare for the storms of life that may head our way – and that requires some planning.  We're also told not to trust in our own plans, for they are flawed and our ways are not God's ways.  If our plans for our lives and His conflict, guess whose plan will lose?
So, in planning, we need to always be aware that our plans are subject to Divine review and change.  There are some things, however, that I don't think God would ever remove from our plans.  Obedience to the first and greatest commandment and to the second greatest commandment are two examples of such things.  Those things are always good – and delight God's heart. 
Maybe that's what makes it so sad (and vitally important) to contemplate the question: what if there were no tomorrows?  What relationships in my life would I want to improve?  What disobedience would I seek forgiveness for?  What repentance is needed?  Who would I talk to that I've been avoiding because of some silly disagreement or upset in the past?  Who would I want to see one more time?  Who would I want to tell about Jesus before my tomorrows ran out? 
The problem, of course, isn't really in answering those questions I just posed, but in believing that some day our tomorrows will run out – and we just never know when that day will be upon us, like a lion on a wildebeest.  But, that day will come.  It'll come for me, and it'll come for you.  Like the children's game of hide or seek, that time will come with the words, "Ready or not, here I come!"  And then we'll be in its clutches. 
Since we don't know when that day will come, doesn't it make sense today – this VERY DAY – to begin taking care of some of those questions listed above, to fixing some of the broken things in your life?  What is ONE THING you will do today to start working toward the point that when the times comes that there are no more tomorrows for you, that you won't leave this world behind with regrets?  You can't fix it all in one day, but you can fix it one day at a time…as long as you have even just one tomorrow left. 
PRAYER:  Give us wisdom to know where to being to work with Your Spirit to fix up the brokenness we might leave behind if we have no more tomorrows.  Give us the courage to live each moment, let alone each day, as if it were our last.  Put the people on our heart that You have prepared to hear about Jesus, and let us speak His name to them while we still breathe.   In Jesus' name, Amen.
COPYRIGHT 2018 by Galen C. Dalrymple. All rights reserved.