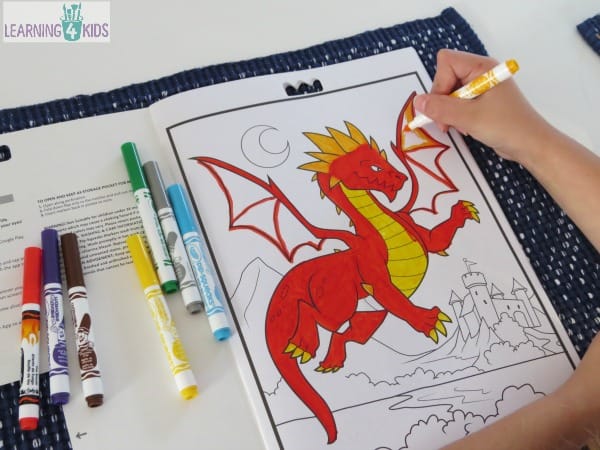 DayBreaks for 4/20/18: Coloring

Outside

the

Lines

 
From the DayBreaks archive, April 2008:
My granddaughter, Kailani, is now 5, and she's very good with crayons and colored pens.  One of her favorite things to do when I get to her place is to invite me to sit down and color with her.  We'll use the same coloring book – she'll take one page and I'll take the facing page.  She is VERY particular about staying inside the lines.  Maybe that's why she wants us working on the same pages – that way she can keep an eye on my coloring to see if she approves!!!!
I, too, still love to color.  I always have.  I don't do it except when I'm with my grandkids.  Strange.  But I recall the outlines of shapes and people, and the joy of deciding what colors to use and turning a blasé page into a genuine work of art (well, maybe just a colored page!)  It bothers Kailani if I color outside the lines, and it bothers teachers, and it bothers me, too.  The creator of the work intended for people to color INSIDE the lines, not outside.  If all you do is color outside, the beauty is not revealed in its fullest. 
Now-a-days, some "experts" are saying that it is harmful to a child's development to tell them to stay inside the lines.  They say that the child shouldn't be restricted from someone else's view of reality, and that if they want to color outside the lines, well, that's just fine. 
I'm not so sure.  It seems to me that coloring outside the lines is dangerous…and can have serious, even deadly, implications in other areas of life.  Stop and think of "coloring outside the lines" as a metaphor for life, rules and restrictions.  Especially God's boundaries.
God himself sets lines and boundaries.  He did it in creation by telling the sea that it could only go so far and no further: Should you not fear me?, declares the Lord.  Should you not tremble in my presence?  I made the sand a boundary for the sea, an everlasting barrier it cannot cross.  The waves may roll, but they cannot prevail; they may roar, but they cannot cross it. – (Jer. 5:22)
The barriers (lines, if you will) that God set forth are not intended to limit our self-expression, but to direct it towards things that result in life and a deeper relationship with God Himself.  To think we know better than our Creator and decide it is okay to operate outside the boundaries that He wisely and kindly gave us, is confusing self-expression with self-indulgence.  It is to place ourselves in judgment on the Judge of all the earth.
Psalm 16:6: The boundary lines have fallen for me in pleasant places; surely I have a delightful inheritance.
PRAYER:  Thank You, Father, for setting boundaries for our well-being and protection.  Teach us to live within the wise lines You have drawn for us as our Creator.  May the pattern of our lives lived on this earth be a thing of beauty to You!  In Jesus' name, Amen.
COPYRIGHT 2018 by Galen C. Dalrymple. All rights reserved.