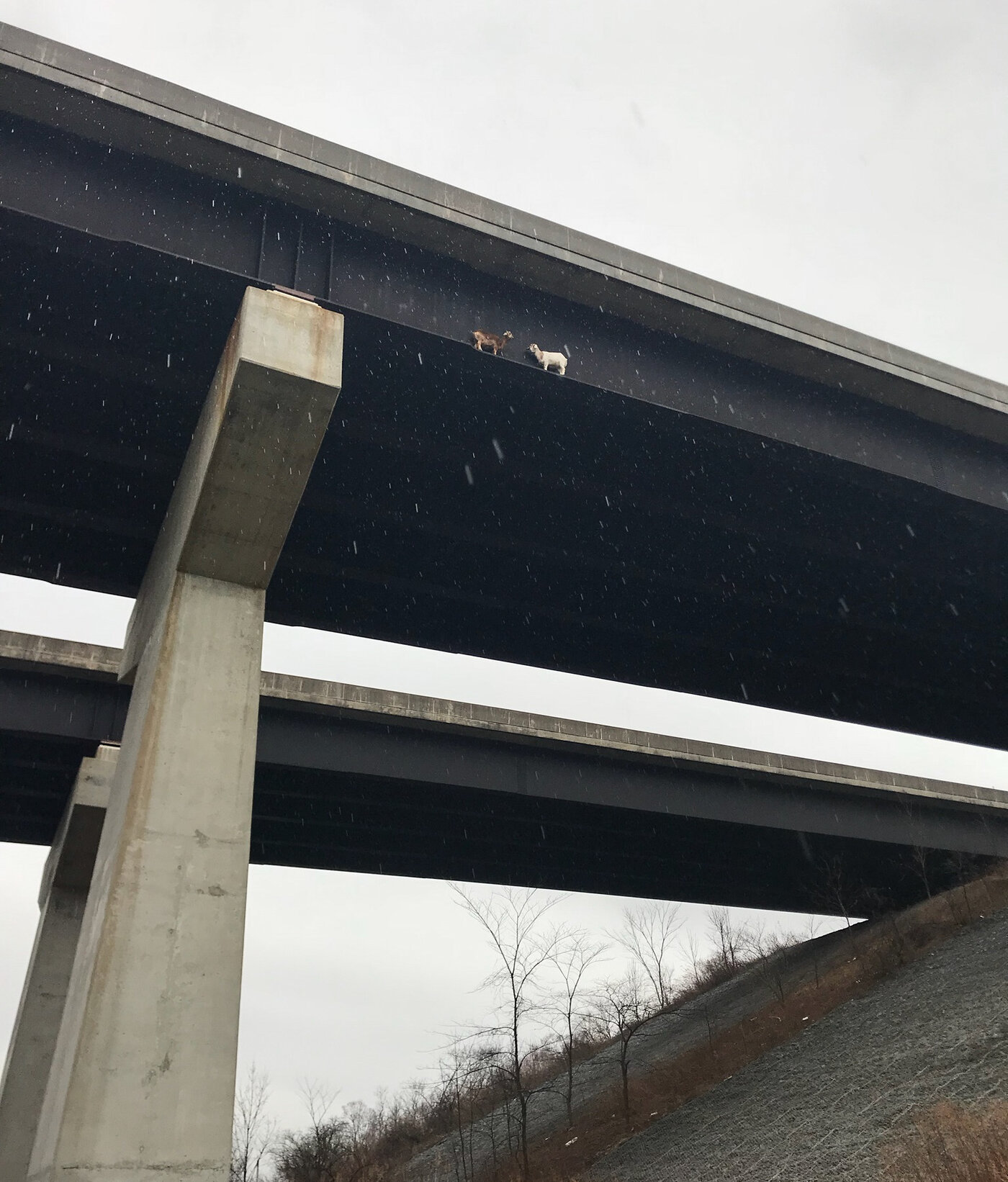 DayBreaks for 4/09/18: Two Goats on a Bridge
Perhaps you saw the story on the news or read about it online. Last week there were two goats (apparently pals who escaped from a nearby yard) who went out for an adventure. They wound up on a girder underneath the bridge, about 200 feet out from one end of the structure and they got "stuck". They couldn't continue walking ahead because of an obstacle that blocked their path, and while one of the goats managed to turn around to go back, his partner either couldn't do so or lacked the courage to try, blocking the pathway of the courageous goat. And so there they were, 100 feet in the air, 200 feet from the end of the bridge. A call went out to attempt to rescue the goats and some bridge maintenance crew arrived with a cherry-picker to reach down under the roadway to rescue the critters. The good news is that both goats were successfully rescued, but there are lessons here for us.
FIRST: the goats were only looking for an adventure, not trouble. We are often looking for adventure, excitement in our lives, and we don't give much though to where we're headed and the possible complications and trouble we could get into. What may seem like an innocent indulgence can become life and eternity threatening.
SECOND: The goats couldn't go forward or backward, they couldn't retrace their steps to get out of trouble. We get ourselves into many a predicament where we cannot go back and undo what it was that got us into trouble. Relationship and friendships can be destroyed forever because of a dalliance.
THIRD: we were much like the goats on the bridge. They desperately needed rescue. They'd been there for hours without any hope of escape. They needed some outside agency to not just care about them, but to rescue them. I liked what one of the rescuers said when he reached out and grabbed one of the goats to pull them into the basket of the cherry-picker: "There was no way," he says, "I was letting go of that goat." God isn't about to let go of us, either. I, for one, find that very encouraging!
2 Peter 3:3 (KJV) – Knowing this first, that there shall come in the last days scoffers, walking after their own lusts…
PRAYER: Lord, in our foolishness we often go astray and are stranded. We are grateful that you not only are concerned for us, but came to our rescue. Give us wisdom to understand the danger we often get ourselves into. In Jesus' name, Amen.
COPYRIGHT 2018 by Galen C. Dalrymple. All rights reserved.