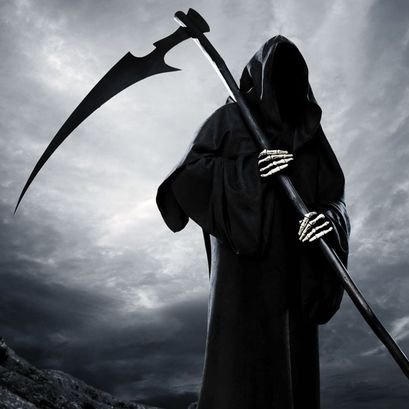 DayBreaks for 1/12/18: The Reaper's Approach
From the DayBreaks archives, January 2008:
From Bizarre News, 1/3/08:
PROVIDENCE, R.I. – Doctors at a Providence, R.I., nursing home say a cat that keeps the patients company seems to be able to predict their deaths.  Staff at the Steere House Nursing and Rehabilitation Center said the 2-year-old feline, named Oscar, will go into the room of a patient whose end is near, curl up next to them and purr, WebMD reported Thursday.  David Dosa, who submitted an essay on the cat to The New England Journal of Medicine — which published the paper Thursday — said the vigilant cat has been present for the deaths of more than 25 residents and often serves as a fill-in for family members who cannot be present at their loved one's bedside. 
"As people would pass, the question (among staff) was always, 'Was Oscar at the bedside?'" Dosa said.  "And the answer was invariably 'yes.'  This is an end-stage dementia unit.  Deaths are common." 
As for how the cat knows when a patient is near death, experts say there are a number of possibilities ranging from sense of smell to mimicking the behavior of  
humans who care for the dying patients. 
Isn't it interesting how animals have such perceptive abilities?  Animals have been known to recognize an impending earthquake before they happen.  During the massive tsunami a few years ago that took so many lives in the Indian Ocean area, animals took off for higher ground in advance of any waves appearing.  Dogs (at least some of them) have the ability to sense an epileptic seizure before it strikes, and have even been trained to alert their masters before it happens. Others have been known to be able to smell cancers in humans and have been used as a diagnostic aid.  
But what struck me about this story was that the cat could sense approaching death.  Death is pictured in art as a tattered, black robed man with a scythe (the "grim reaper") who approaches his victims.  We will probably never know how Oscar the cat could sense the approach of death, but it appears that this cat at least has the ability to detect its approach.
Without being morbid, I was led to wonder what we would do if we could sense the approaching death of others?  Would we, like Oscar the cat, draw near to them, or would we tend to shy away from them, not knowing how to act or what to say – as is sadly the tendency of many people when someone is clearly terminally ill?  What would we say to them?  If they were unbelievers, would we speak of the love of Jesus?  And if we'd do it then, why would we not do it while they're still healthy and well and can have the blessed privilege of living for Christ in the here and now? 
I also wonder what we'd do if we could sense our own imminent death?  Is there anyone who wouldn't want to know that death was drawing closer so that they could mend fences, speak those words of love and affection once again to a spouse, children and grandchildren?  Here's the kicker: intellectually we know that death is approaching with every tick of the clock.  As Francis Schaeffer so aptly put it: "How then shall we live?"
Job 12:10 (NIV) –In his hand is the life of every creature and the breath of all mankind.
PRAYER: Lord, give us compassion for the sick and the dying, and help us to never lose sight of our own mortality.  Our hope rests in You!  In Jesus' name, Amen.
COPYRIGHT 2017 by Galen C. Dalrymple. All rights reserved.