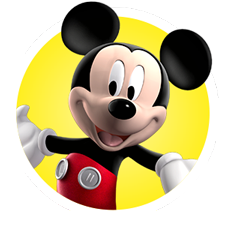 DayBreaks for 6/21/17: Mickey Mouse Immortality
From the DayBreaks archive, 2007:
"Disneyland, believe it or not.
"That was the destination of my "questionable pilgrimage" last week. It was a long-planned vacation with my wife's family. I am not a fan of such places. It had been a full seventeen years since I last set foot in Disneyland and I hadn't exactly been pining away for a reprise.
"Theme parks, amusement parks, resorts, fairs – any place designed to translate us to a supernatural state of enjoyment presents itself as a particular vision of heaven and an organized denial of death. Where craft and design are skillfully employed, there is a pleasure in the spectacle. But after three days under the unreal spell of the so-called Magic Kingdom, one begins to sicken and lose grip on the hard margins of life.
"Forever let us hold our banners high – high – high – high!
Forever.  If Disneyland is a vision of immortality it is flush with the same kind of color and false health the diseased sometimes display even on their deathbeds.  It is pristine, pre-pubescent, antiseptic, apparently safe, the "happiest place on earth," But whose heaven is it? A child's heaven?  A sentimentalist's heaven? A show-goer's heaven?  A consumer's heaven?  A marketer's heaven?  A glutton's heaven?  In any case it is a godless heaven and so no heaven at all.  There's a smell of sulphur mixed in with the cotton candy.
"One risks taking this all too seriously, I know. There's room for a modest amount of pleasure in life, after all. But when was Disneyland ever about moderation?
"And yet even here one can discover little blossoms of sublimity, little daisies that surprise in a field of plastic flowers. At the end of a tiring day to hold my one-year-old daughter wrapped in a blanket in the front seat of a bobbing boat with her head against my chest while the lights and colors and evening's first stars are reflected in the black lacquered bow – that is beautiful."
Galen's Thoughts: Though sometimes I worry that my oldest son is too serious-minded, I am thankful for his gifts and wisdom that draws me up short on many occasions.  We must be careful, as Doug notes, to not create false supernatural states of enjoyment that denies the realities of life.  That kind of life operates under the motto of "Eat, drink and be merry…for tomorrow we die" (except they leave out the last 4 words!)  God has a better plan – real supernatural enjoyment that lasts forever.  Seek it.  Find Him.  And you will have found all that your heart ever truly has longed for. 
PRAYER: Lord, thank you for helping us know the beautiful from that which has false beauty and attraction.  Fill us fully with Your joy.  In Jesus' name, Amen.
Copyright by 2017 by Galen C. Dalrymple.  ><}}}">