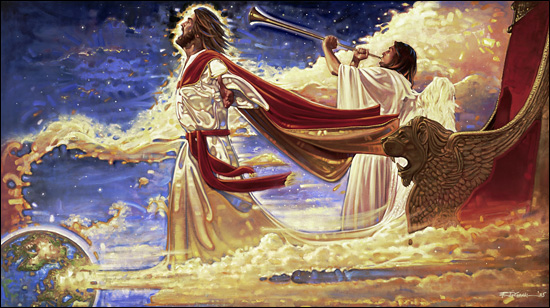 DayBreaks for 2/10/17 – When the End Comes
When we think about "the end", there are probably lots of things that cross your mind.  I think of the blast of the trumpet, I think about what it will be like to actually look up to the heavens and see Jesus for the very first time, surrounded by who-knows-how-many angels, riding on a great white war horse.  I think about what it will be like to see the spirits of the dead popping up from the ground all around.  I think of how I'll feel – will I know fear, or will my relationship with him be such that there is no fear?  What kind of looks will be on the faces of those who will only for all eternity know him as their judge and not as their Savior?  What kinds of shrieks and cries will fill the air?  Imagine the looks of wonder, shock, joy and dismay that will be seen on people's faces.
I think about the end of suffering, of pain, disease, death.  I think about not ever having to pay income taxes again, or to never again have to make a house payment (not even on my "mansion" in heaven!)  And I wonder what the One who sits on the throne looks like, I can't wait to see the four living creatures are like and to hear the sweet music of heaven!
But there's another thing that will accompany the end that I don't often think about.  Julian of Norwich put it this way: When the end comes and we are taken for judgment above, we will then clearly understand in God the mysteries that puzzle us now.  Not one of us will think to say, 'Lord, if it had been some other way, all would be well.'
How many times have I thought God should have done something differently, or in a different way than He has?  Certainly, if He'd only asked me first, I could have told Him a better way than He decided on by Himself!!!!  There are mysteries that deeply trouble me: why we find it so hard to forgive (given the way we have been forgiven by Him!), why we are so quick to judge, why there are tornados, tsunamis, hurricanes, earthquakes, diseases, divorces?  Why is there such a thing as Sudden Infant Death Syndrome?  Why did He let someone be born only to die within minutes, hours or days?  What purpose do all those things serve, or do they serve any purpose at all?  (I have to believe that they do, or He would not permit them to happen.)  And so, I trust that Julian was right: that the day will come when we will not question God, but will KNOW.  Where we will not accuse Him of choosing the wrong way, for we will see with our own eyes and understand in our own hearts and minds that God did, indeed, choose the best way for everything, and that in the end, "all will be well."
PRAYER:  Lord Jesus, as you know, It is hard to live by faith when we are alive in a world of such brokenness and unanswered questions.  Teach us to trust You, that there is a rhyme and reason to all things, and that in every decision You make, that You have chosen not only wisely, but perfectly.  In Jesus' name, Amen.
Copyright 2017 by Galen C. Dalrymple. All rights reserved.