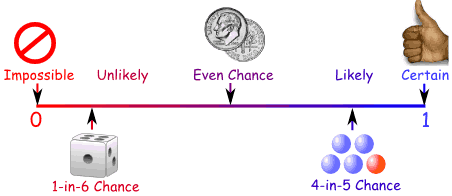 DayBreaks for 10/07/16 – What Does Heaven Care for Probabilities?           
From the DayBreaks archive, 2006:
I was recently reading a manuscript for a possible fiction book (somewhat along the lines of the Tolkein or C.S. Lewis Narnia tales) and towards the end of the book as the tension mounted and things got really interesting, someone was trying to encourage the hero of the book to not lose heart.  If you've been up for more than 10 minutes by the time you read this, you'll know why.  It seems that things just come at us so fast, with nary a moment's respite.  Not only do things hit us quickly, but they seem to pile up faster than we can push them off our plate.  If you haven't been up for more than 10 minutes yet today – just wait.  It'll happen to you today, too.  How do I know?  Well, I'm basing my statement on the probability that something will go wrong for you today.  Hopefully, it won't be anything serious, but something is quite likely to not work out just as you wished.
When the action is fast and furious and we are beset and surrounded by enemies that are interested in only one thing – blood – we need to be reminded that we are in good company.  It happened to David – over and over, including Psalm 3 – where he writes out of his desperation about how he is surrounded.  It appears Psalm 3 was written when he was surrounded by the armies of Absolom (his own son!) who were trying to kill David.  We don't know for sure how many there were with Absalom, but over 20,000 were killed in the ensuing battle.  Now that's what I call surrounded by the enemy! 
Elisha found himself vastly outnumbered as the Arameans were laying siege to Israel.  Elisha's servant was petrified – believing his day to die had come, but Elisha prayed to God and asked God to open the eyes of his servant – and God did.  When the servant could see, he realized that the hills surrounding his location were full of fiery chariots filled with angels.  The poor Arameans didn't stand a chance.
Jesus, too, was surrounded and outnumbered by his enemies.  But the victory was firmly in his grasp.
The manuscript I was reading had a sentence that really struck me at the point when someone was offering the hero courage against his foes who outnumbered the good guys: "What does heaven care for probabilities?"  What a profound, yet perfectly simple, question.  The answer is obvious: nothing.  Heaven cares nothing about probabilities.  Heaven doesn't have to deal with probabilities, for God deals only in certainties.  Probabilities are for creatures like us who cannot control times, seasons, events, or for actuaries who have to figure out the odds for insurance companies, or for gamblers.  God, in fact, seems to revel in the impossible situations – and in delivering His children from them.  Consider David, Elisha, Daniel, Joseph, Paul, Abraham and Sarah, the prophets, the early church against the entire world…and you'll see what I mean.
Is your marriage "on the rocks"?  Does it seem to YOU that it will never get back on solid ground, that the odds are against you?  Have you lost hope for any reason, about anything?  About your salvation, even?  God laughs at probabilities.  When we face tremendous odds and we KNOW that we are on solid ground in our walk with Christ and KNOW that what we want is what God wants (like your marriage to stay together!), we can join God in His laughter, knowing that in reality, with God on our side, the odds are stacked in our favor 100%.
PRAYER: Lord, we need courage to face all that is in this world that attacks us, seeks to harm or destroy us.  Help us to see the heavenly hosts that are at Your beck and call to do Your bidding, to deliver us and grant us the victory.  May we be firmly based in obedience to Your Word.  May we want what You want.  May we join You in Your laughter and disdain for probabilities, and may we rest on Your certainty!  In Jesus' name, Amen.
Copyright 2016 by Galen C. Dalrymple. All rights reserved.