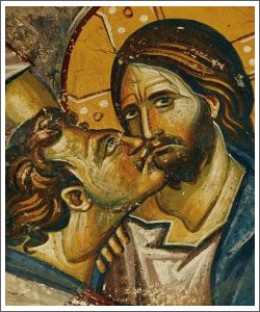 DayBreaks for 4/11/16 – Judas' Greatest Downfall
Matthew 27:3 (NLT) – When Judas, who had betrayed him, realized that Jesus had been condemned to die, he was filled with remorse. So he took the thirty pieces of silver back to the leading priests and the elders. "I have sinned," he declared, "for I have betrayed an innocent man." "What do we care?" they retorted. "That's your problem." Then Judas threw the silver coins down in the Temple and went out and hanged himself.
Judas. That one word is all that often needs to be spoken. It is often spoken in anger and pain after someone has been betrayed and the label their betrayer with that one, single word. And everyone knows what they mean.
There are people in history we would all love to be like – to emulate them and their achievement. We honor their legacy cherish their memories. I don't know of anyone who consciously wants to emulate Judas, but I suppose there are some who do.
Judas has gone down in history as one of the greatest traitors of all time. That's how we remember him…traitor, betrayer, unworthy of the love and trust that Jesus had placed in him.
Could it be that Judas' greatest downfall, his greatest failure, was not his betrayal of Jesus but his inability to conceive of a God that was big enough and willing for forgive his sin? He realized, according to Scripture, that he was a sinner. But he'd given up hope that the one who he had betrayed would ever forgive him. Without that understanding of God's fundamental desire and nature, life holds little joy and the future is hopeless. Someone once said that the person who knows himself or herself to be a sinner and does not know God's forgiveness is like an overweight person who fears stepping on a scale.
It is quite possible that over the weekend you did something that you feel is so shameful and unforgiveable that you, too, have lost sight of the immensity of God's love for you and not just His capactity, but His eagerness to forgive you. My advice to you is this: don't be a Judas!
PRAYER: God, our enemy wants us to believe that we are so awful and sin-stained that You cannot even look at us but only turn away from us in disgust and anger. Don't let us emulate Judas and believe those lies from Satan! Let us cling tightly to the unlimited goodness of Who and What you are, and Your burning desire to forgive us of all our sin because of Jesus! In Jesus' name, Amen.
Copyright 2016, Galen C. Dalrymple. All rights reserved.